The Hotel Academy – High School In Slovakia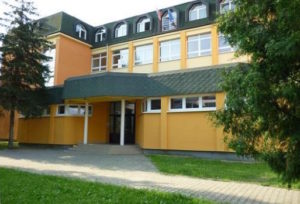 The Hotel Academy, Hlinska 31, 010 01 Žilina is located in Northwest of Slovakia. It is a public school with 587 students, aged 16-20 and 39 theoretical teachers and 18 trainers.
Žilina is a natural centre of north-western Slovakia and with a population of 84 604 inhabitants – it ranks among the largest cities in Slovakia. Žilina is located in the valley of the Váh river, in the Žilina Basin, at the confluence of the Váh river with its tributaries Kysuca and Rajčanka. The Žilina Basin is surrounded by the mountain ranges of Malá Fatra (Lesser Fatra), Strážovské vrchy (Strážov Hills), Súľovské vrchy (Súľov Hills), Javorníky and Kysucká vrchovina (Kysuce Highlands).
Žilina is a centre of significant political, cultural, sport and public health care institutions. It is the seat of new Žilina Diocese, important business centre and entrance tourist gate into the Žilina Region. The city of Žilina is the seat of the Žilina Region. Together with the Region, it keeps a stable position of the second or third place in gross domestic product per inhabitant.
Nowadays, the city of Žilina represents a dynamic development accelerated by KIA Motors Slovakia investments. However, the City is not only a centre of car production, but together with the Upper Váh River Region (Horné Považie), it is an interesting tourist destination.
Our school provides education for students aged 16 – 20 in the following fields of study:
3-year-long vocational studies – cook, waiter, candy maker – is completed   by a   successful final examinations.
4-year-long studies with maturita – cook, waiter
4-year-long specialized studies with maturita – management of regional tourism
5-year-long specialized studies with maturita – hotel academy
Theoretical education is provided in the school premises and practical training is provided in the form of specialized practice and vocational training in vocational training centres and directly in the workplace of hotels for example.
The school strategy for education creates conditions for development not only of vocational, but also of general and key competencies. In vocational/specialized education the preparation aims at the area of economics, hotel and gastronomic management, marketing, accountancy, law, social communication.
At the same time students learn about composition and storage of food, about nutrition, table-setting, technology of meal preparation etc. During vocational training students acquire theoretical and practical skills in divisions of catering and accommodating services.
Students acquire the ability to speak at least 3 foreign languages during their study (German, English, French, Spanish, and Russian) on the level which enables them to communicate fluently. The development of a student's personality and forming their personal and professional qualities, attitudes and value orientation are of the major importance.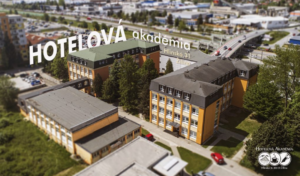 Our school-leavers/graduates may apply for study at various universities, mainly focused on traveling, catering and similar branches. A typical feature of our school is its high level of professionalism, what is proven every year by top awards and excellent appraisals for our students from various national and international contests our students regularly participate at.
Our school and its students are taught to be clever, social, creative, innovative and helpful in their future lives. Also this project helps them to recognize social needs, to think critically, to solve problems together, to decide right way, to appreciate their knowledge and practical skills for people of society who need it, to feel empathy, to be cooperative and to join for good things, to share the life together anytime.
This project is valuable for our students because thei will need to work with a different public and they need to know how to react to different disabilities. What is more, we have students that have some minor disabilities that are not taken into account sufficiently by our education system. This project allows us to analyse and raise the alarm regarding this situation.