A group of 2nd year SP3S students organized a conference on the theme of disability in the framework of the Erasmus + project "Sharing the world: disability and displacement" on 15 November 2017.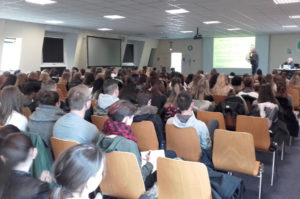 The association ADAPEI45 intervened to present the types of disability, the structures that can accompany people with disabilities, the difficulties faced by people with disabilities, accessibility, communication, changes in the medico-social sector in this area. The conference allowed our pupils and students to better understand the living conditions of people with disabilities in France. They had the opportunity to interact with the specialized educators from the association ADAPEI 45 and with a person with a disability. The young people were very attentive and enjoyed this meeting.
We would like to thank the association ADAPEI 45 and our students for this successful intervention.