Silifke Anadolu Lisesi – High School in Turkey
Silifke Anadolu Lisesi is a High School located in Silifke, Mersin – South of Turkey on the coast of Mediterranean. It is a public school with 505 pupils, aged 14-19 and 30 teachers.
Silifke is a small city very close to the Mediterranean. There are a lot of pleasant resort towns with good accommodations and fine sandy beaches, especially the Aphrodite Beach around Silifke. Further more there is a harbour near Silifke. The harbor includes regular sea bus services to Girne in the Turkish Republic of Northern Cyprus. As a result of these conditions a lot of domestic tourists come here for holiday in summer season however it fails to attract foreign tourists'interest because it is not advertised enough. This region is also old and deep-rooted settlement. There are some important historical places around the town. There is also Bird Paradise near the city and many of bird species live there. We must advertise the region much more, this would offer a good possibility for our students to improve their English skills.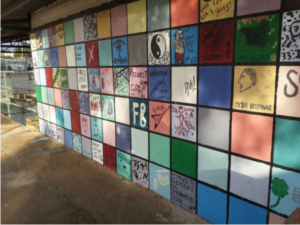 Our students are eager to learn and their families try to supply them with better facilities for good education. Silifke Anadolu Lisesi is one of the most successful schools in its province. Most of the our graduated students suceed the university exam and begin to study at most popular universities in Turkey. Although our pupils are successful at their academic life, they have some problems in their social life related to the relationships they have with other people. During their school days they have less friends because they think that their only friends are their school subjects to succeed the university exam. According to them their peers are their rivals, not their friends. They think that spending time with their compeers is a waste of time as a result they isolate themselves from society. With this project we encourage our students to be more social in their daily life. They can understand that they can achieve most things by helping each other, not competing with each other. They will also become more sensitive to all the issues concerning disability and displacement. As future citizens and leaders of their society, they need to be aware of the needs of their community.
They are fond of using technology. This project can help them use it safely and to be active citizens. Our students can develop their digital skills.
This project also can help our students improve their creativity and innovation, critical thinking, problem-solving, making decision abilities. As a result; with all activities in our project we would like to try to teach more about living together in peace and help them to learn more about each other. Our children and teachers want to share their experiences and want to learn more so we hope that participating in such a project will strengthen learning motivation, improve children language skills and give more hope for the future. Teachers will also have a possibility to develop their intercultural awareness and share their practical knowledge with the colleagues from other European countries.