SLOVAKIA
The Universal Declaration of Human Rights gives parents the right to choose a way of learning for their child. Access to the way and forms of education and training should provide flexibility, openness, accessibility, expertise, responsibility and individuality.
The nineties  represent a significant turnaround in the access to basic education and education issues affected by Slovakia.
There is deserved attention given to the right of the child to grow up in the environment of one's own family and in the natural environment of their parents in the conditions of regular schools as well as the right of parents to decide on how to educate their own child
Currently, the education system in the Slovak Republic enables education in the form of individual integration in the system of ordinary education.
For the next way of preparing for employing there are: The Secondary Technical School for Physically Disabled Pupils provides systematic preparation for work in practical and academic fields. The school also offers the possibility of further study after the final exams. Another organizational component of the ILR is the Centre for Social and Employment Rehabilitation, which strives to find appropriate jobs with regard to the remaining employment potential of its clients, and to place disabled citizens in the current employment market.
Here you can see a map and notification to it, worked by students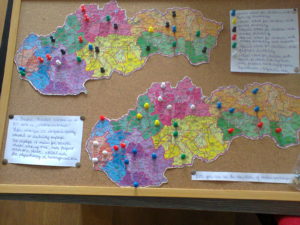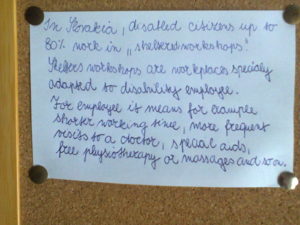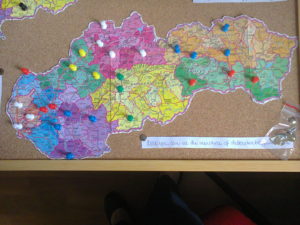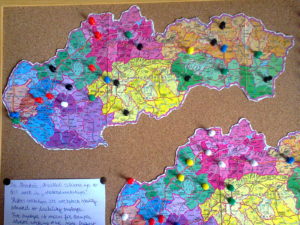 REALITY
In Slovakia,  disabled or displaced people have a really hard problem to find the right job for them these days. It is a pity because most of them would like to work.If a company wants to employ disabled people, it has to create a special working environment for them. Mostly, these requirements are financially costly, so they prefer to employ healthy people. The state gives them pensions, but they are not too big.But some employers don´t  want to employ them. That's why many people work at home. Some disabled people visit protected workshops. Some people go into interest circles such as sewing. All Slovakia workers for AVON, Oriflame (ordering orders, giving advices, offering goods). Architect (drawing up drawings for building a house) 1600€/offer

But there is always way, when someone is ambicious. Some disabled people can be talented and successful in sport.

For example some jobs done by this kind of people:
massager,
salesman,
Babysitter,
assistant,
interpreter,
translator of texts and books,
auxiliary work in city parks,
secretary,
beautician,
computer network mechanic,
goldsmith and jeweler,
writer,
carpenter,
craft work,
we can have three groups of these people
Blind people
Writer of braille
Worker in customer servis
Deaf people
Massager
Book binder
Tailor
People on a wheelchair
Nail designer
Financial advisor
Architect
IT ( computer worker)
Tailor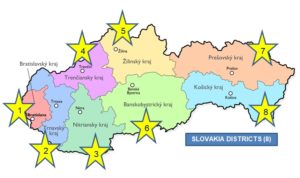 Bratislava district :

   1        auxiliary worker (cutter),

(in the process of cutting of permanent work materials, suitable especially for women)    offered salary (basic wage): 2.85 EUR / hour

checker

(processing orders via the system, preparation and delivery of goods) 480€/month

accountant

(work with PC, make fases) 750€/month

operator in call centre

(market research, active and passive sales of services) 500€/month

     2               Trnava district :

worker in production  grinding of metal frames

treasurer  job requirements (probity, graduation, communicability, responsibility, flexibility)

sheltered workshop: hand made, sewing, weaving, production of gift items

    3         Trenčín district :

tailor, helpful power in kitchen, joiner, handyman, administrative worker

assembly worker, unpretentious TPP work,

(categorization and labeling of the goods when taking, storing and storing goods, preparing and dispatching goods, warehouse),

call centre operator, receptionist, customer service, ordering, wellness cleaning,   preparation room

(the work is done in a quiet environment / suitable for disabled or disabled retired  – work on 3-shift operation, offered salary: from € 500 per month,

required education full secondary education full secondary general education)

        4                     Nitra district :
massage therapist,
hairdresser,
mason,
operator
 5         Žilina district :
massager,
Android Java developer ,
work force in the kitchen ,
salesman in ironmongery ,
informant
IT manager
(programming machine) 600€/month
 6          Banská Bystrica district :
car driver with pizza ,                         
salesman at the pharmacy ,                         
writing articles to newspapers,                         
beautician ,                         
manicurist ,                        
florist
 7        Prešov district :
receptionist,
tailor / tailoress, 
treasurer,
biker technician
 8           Košice district :
gardener,
tailor / tailoress,
automobile industry,
charwoman, 
IT technician,
webpage designer 
 People with down syndrome or paralyzed part of the body have social support and nurses in Slovakia.