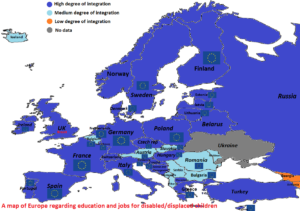 The
World Health Organisation
estimates that around 15 per cent of the world's population has a disability. Several million are thought to be displaced but often remain invisible within uprooted communities. 
People with disabilities are not a homogenous group – they have different capacities and needs, and contribute in different ways to their communities. In times of crisis, they may be vulnerable to discrimination, exploitation and violence, and face numerous barriers to accessing humanitarian assistance.
At UNHCR, we work to ensure people living with disabilities have access to vital services and have the opportunity to apply their skills and capacities to benefit themselves, their families and communities.
We work around the clock to identify the issues they face and develop long-term solutions.